As the needs and demands of Americans have changed, so has the American kitchen. The kitchen is no longer a small utilitarian space at the back of the house that is dedicated to preparation of food only; it has taken the center stage and is now known to be the 'Heart of the Home'. It is a place where people bond with each other, entertain kids and welcome guests, apart from preparing scrumptious foods. Today kitchens have become an integral part of the house and its design and organization impacts the overall look and feel of the house. So it has become more important than ever to design and organize the kitchen in the right manner.
Moreover, with technological advances, the kitchen has also experienced a functional transformation. Food habits have changed and so have the eating preferences; we are now more prone to eat freshly cooked healthy food. Thus kitchen accessories have also undergone sea change to suit the changing needs of the Americans. The right kind of kitchen and cooking accessories not only helps you to cook faster, it also makes cooking fun.
Importance of Having the Right Cooking Accessory
Cooking your own food allows you to keep track of what you and your family is eating – it becomes easier to cut down calories and fat and prepare food that is not only healthy but tasty at the same time. But without the appropriate cooking accessories, it can become tough to prepare food that everyone loves!
While the choices are endless when it comes to cooking accessories there are a few staples that you cannot do without. These include:
1.A Knife Set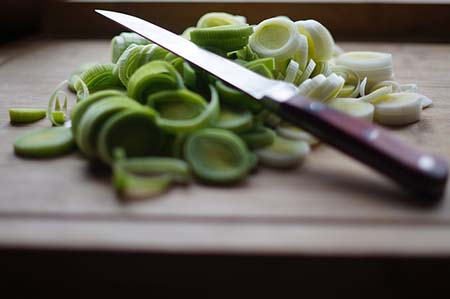 Having the right kind of knives will help you prepare food that is perfectly cut and cooked. Say you are preparing smoked salmon and you don't have a proper knife to slice it into equal sized fillets. So you cook whatever you have; when you serve the food it looks delicious from outside but when you cut through, you find it raw inside! Don't let that happen to you; get the right knives and treat your family with the best food ever.
2.Measuring Spoons/Cups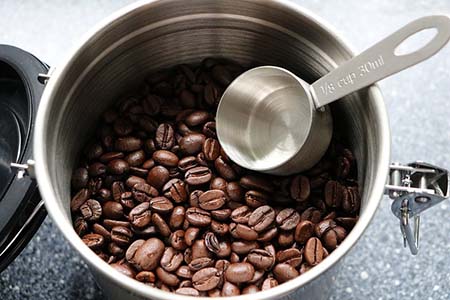 The secret to preparing delicious and mouthwatering food is mixing the ingredients in the right proportions. So, having measuring cups/ spoons in your kitchen, you can cook food that wins everyone's heart.
3.Tongs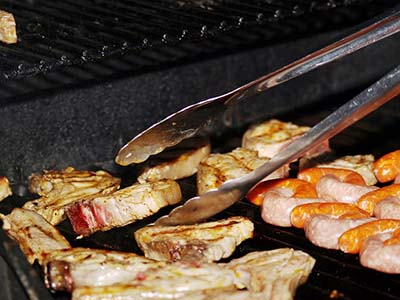 Love baking and grilling? Then having a pair of tongs is a must. People often use forks, spatulas or chop sticks to flip the food but it makes things much more difficult. You can burn your hand, splash the sauce or create a larger mess.
4.Kitchen Scissors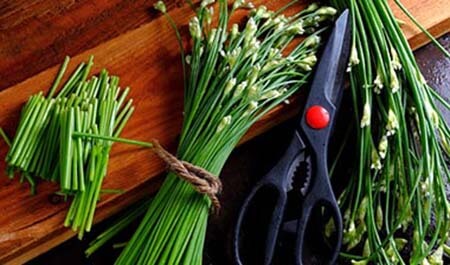 Can't I use a knife instead of scissors? How many time have you told this to yourself when you saw those scissors while shopping for cooking accessories? Not only you, but a large number of people think the same. But have you ever thought what you would do if you were asked to eat soup with chop sticks! Every element within your kitchen has been designed to serve a specific purpose and it is best to use them appropriately.
So when it comes to chopping herbs and cutting pizzas, having the right kitchen scissors makes things much easier.
5.Spatulas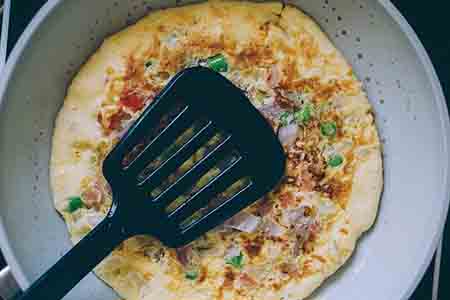 Spatulas will help you get every bit of batter or sauce out of the container. You can also use spatulas to cover the cake base with icing cream and a lot more things.
These are some of the basic cooking accessories that are a must for your kitchen. Apart from these you can even require a grater, potato masher, oil mister, strainers, etc., depending upon your cooking habits.
6 Must Have Kitchen Scissors That Will Make Your Life Easier
Kitchen scissors are one of the most important tools that one must have in her kitchen. For most people kitchen scissors are optional, even though they serve a lot of purposes. Even though a good pair of knife will perform 99% of all cutting tasks, kitchen scissors can be incredibly useful.
In contrary to what you think, kitchen scissors do a lot more than cut the plastic wraps; you can cut herbs, small vegetables, meat and pita triangles and a lot more than you can think. One of the major advantages of using kitchen scissors is that you can apply much more force without the risk of harming yourself. So here are top 6 kitchen scissors that will help you show off your culinary skills:
Triple Blade Herb Scissors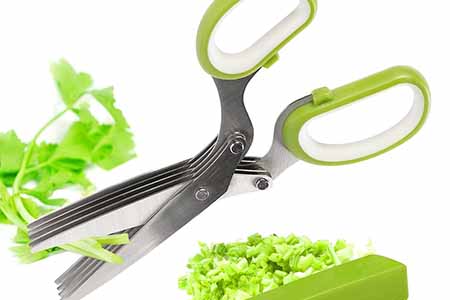 These are handy scissors that finely chop herbs and stems. You can use these scissors to add ingredients directly over the pan, while preparing the dip or sauce. The three blades cut through the herbs without bruising them, so you get the real flavor. The herb scissors are made of stainless steel and provided with soft grip handles, so you can cut herbs without hurting your fingers.
Poultry Scissors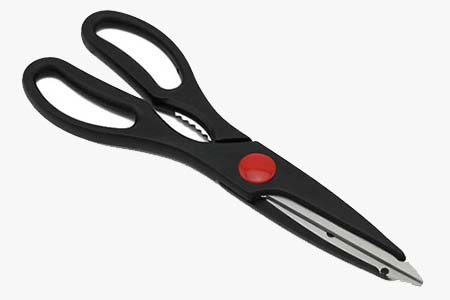 To make perfectly cooked chicken or barbecue you need to cut the poultry efficiently and debone it thoroughly. Poultry scissors are mostly made of forged surgical stainless steel which makes it easier to cut through the meat. Apart from cutting poultry it can also be used for other cutting and chopping needs that require precision cutting. Since the edges are very sharp, these scissors provided with a safety latch for safe for safe storing.
Seafood Scissors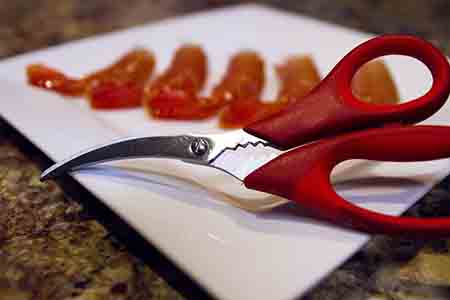 source
If you love cooking seafood, you must know how difficult it can be to crack, cut and shell crabs. For those who love seafood, seafood scissors are a must. Whether you need to devein lobsters or crack crab shells, with the right seafood scissors it will become child's play. These scissors are provided with built-in cracker between the handles crack shells easily no matter how hard they are. Whether you are professional or a mother, the seafood scissors will help you prepare restaurant style seafood dishes.
The shell crackers can also be used for cracking nuts.
Pizza Scissors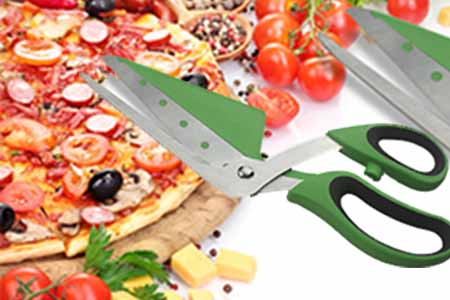 Have you ever thought about cutting pizzas with scissors? You might laugh at someone using scissors to cut those pizzas but it is often the best way to cut pizzas into equal parts. Most pizza scissors come with non-stick nylon base which cuts through the dough effortlessly without creating a mess. If you go gaga over Italian food, a pair of pizza scissors is a must for you.<
All Purpose Kitchen Scissors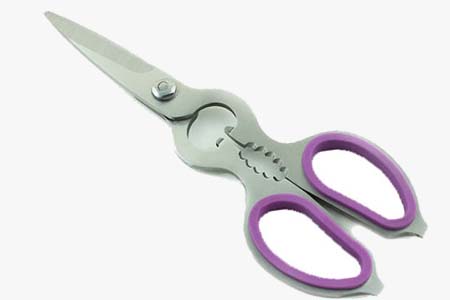 As the name suggests these scissors can do almost anything and everything; from cutting plastic wraps to baking foil; cracking nuts, chopping cilantro or parsley or breaking seals; these multipurpose scissors are a must for all kitchens irrespective of cooking and food habits. When buying an all-purpose kitchen scissor make sure you invest in a high quality scissor to ensure they are durable and serve their purpose well. These are dishwasher safe so you can clean them efficiently.
Kitchen Scissors with Bottle Openers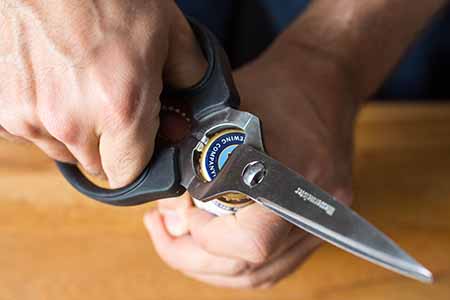 source
A meal is incomplete without a glass a fine wine. But when it comes to gulping down your favorite wine, you need a bottle opener that will open the cork or bottle cap without spilling the wine. You might have corkscrews and bottle openers at home, but having a scissor with an in-built bottle opener would be handier. This is because scissors provide a better grip, so you can apply more pressure.
Did you ever imagine so many types of kitchen scissors were available? When talking about scissors most of us think about those that cut wrapping papers, hairs or fabric, but seldom do we think about cutting poultry to cracking nuts. With so many kitchen scissors, cutting and chopping will no more be a tedious task; rather you will be amazed how quickly and efficiently you can prepare food! Faster cooking also means more time with family and friends.
Kitchen Scissor Buying and Maintenance Tips
Scissors are indispensable and are a must have for every well-organized kitchen. While scissors can make cooking easier; choosing is the right kitchen scissor is important to add efficiency to your kitchen. Kitchen scissors are available in a wide range of variety, as you know by now; but the ones that would be suitable for your kitchen would depend on your cooking needs.
So when shopping for kitchen scissors, here are some factors to be kept in mind:
Smooth operation: the scissors should open and close smoothly without you having to exert a lot of pressure.
Good Quality Construction and Good Balance: this means the scissor should be strong enough not to break in between.
Handles: the handles should provide proper grip so that you can exert the required amount of force without feeling pain in your hands and finger. Handles should also be made of non-slip materials to ensure you don't hurt yourself.
Safety latch: Since the blades of the kitchen scissors need to be very sharp (for precision cutting), you should look for scissors with safety latches. This ensures they are locked when not in use. So you need not worry about children getting hurt, even if they get access in your absence.
Well aligned blades: make sure the blades sit closely and are aligned properly. Kitchen scissors are often provided with some kind of tightening mechanism which helps you keep the blades closely aligned.
Easy cleaning: most kitchen scissors can be pulled apart and cleaned thoroughly. Many of them are even dishwasher safe, so you can clean them efficiently.
Good kitchen scissors can serve you for years, but to ensure they last for years you need to take good care of them. Proper maintenance is paramount to ensure longevity, so here is how you can make the scissors last longer:
Most scissors need to be wiped with dry cloth to remove dirt and residue that accumulate between the blades but kitchen scissors require further care. It is always recommended to wash the kitchen scissors thoroughly and dry properly using a dry and clean cloth after every use.
To get rid of sticky residue use paint thinner; but rinse thoroughly with water to remove all traces of thinner before using the scissor again.
Regular oiling and sharpening is also required to maintain the sharpness and durability. Oiling once in every few months is enough, but you need to sharpen the scissors whenever you find it difficult to cut through the meat or herbs.
It is best not to sharpen the scissors yourself. Rather choose a skilled craftsperson to restore the sharpness of the scissors. Since the kitchen knives are designed uniquely, sharpening it in the wrong manner can mar its efficiency.
It is important to store the scissors in a proper place where they won't get banged against each other. Storing scissors with other heavy duty cooking accessories can break the tips, notch the blades and even knock them out of alignment. Therefore, the best way to store kitchen scissors is to wrap them in plastic wraps or pouches and them the properly arranged in a separate drawer.
By following the above tips you can increasing the longevity of kitchen scissors and make sure operate efficiently.
Conclusion
Whether you love cooking or not, having the right cooking accessories is crucial since it not only helps you save time but it also saves a lot of effort. While most of us have been using knives for most of our cutting and chopping needs, it is time that we upgrade our kitchen to perform the tasks even more efficiently.
However, you might not require all kinds of kitchen scissors; so before you go out for shopping kitchen scissors it is a must that you evaluate your needs, cooking style and eating habits. No matter what kind of scissors you plan to buy make sure you invest in the best quality scissors so that they last longer. When buying kitchen scissors consider the purpose, quality and efficiency to get the best value for the money you invest.
With the right kind of cooking accessories, you can expand your culinary skills and experiment with newer recipes. So go ahead buy the best suited kitchen scissors and win hearts all over again!
Cover image: >Source